An Invisalign case study by Dr. Brian Crowley.

In situations with spacing issues between the teeth, there are typically two alternatives for treatment. The spaces can be closed orthodontically or with some type of restorative material, such as bonding, veneers or crowns. Frequently, a combination of these treatment modalities is needed to reach an ideal end-result.
Before: The situation
At a routine cleaning, the patient mentioned that he was unhappy with the spacing present between his upper front teeth. He didn't like how his smile looked and wanted to know what could be done.
Clinical Assessment
The spacing present in this patient was too large to close using restorative material alone – the teeth would end up looking too wide and disproportioned. The patient also expressed that he wanted to avoid restorations if at all possible.
This led us to a conversation about Invisalign treatment, which uses a series of customized clear plastic aligner trays to gradually shift the teeth over time. The necessary impressions and photos were taken and submitted to Invisalign.
From these records, Invisalign developed a digital plan called a Clincheck®. The Clincheck is a simulation that shows:
* The current placement of the teeth
* How they would move through treatment
* What they would look like at the end of treatment
* How long the process will take
It's a tremendous tool that allows people to actually see the end result, as opposed to trying to visualize it on their own.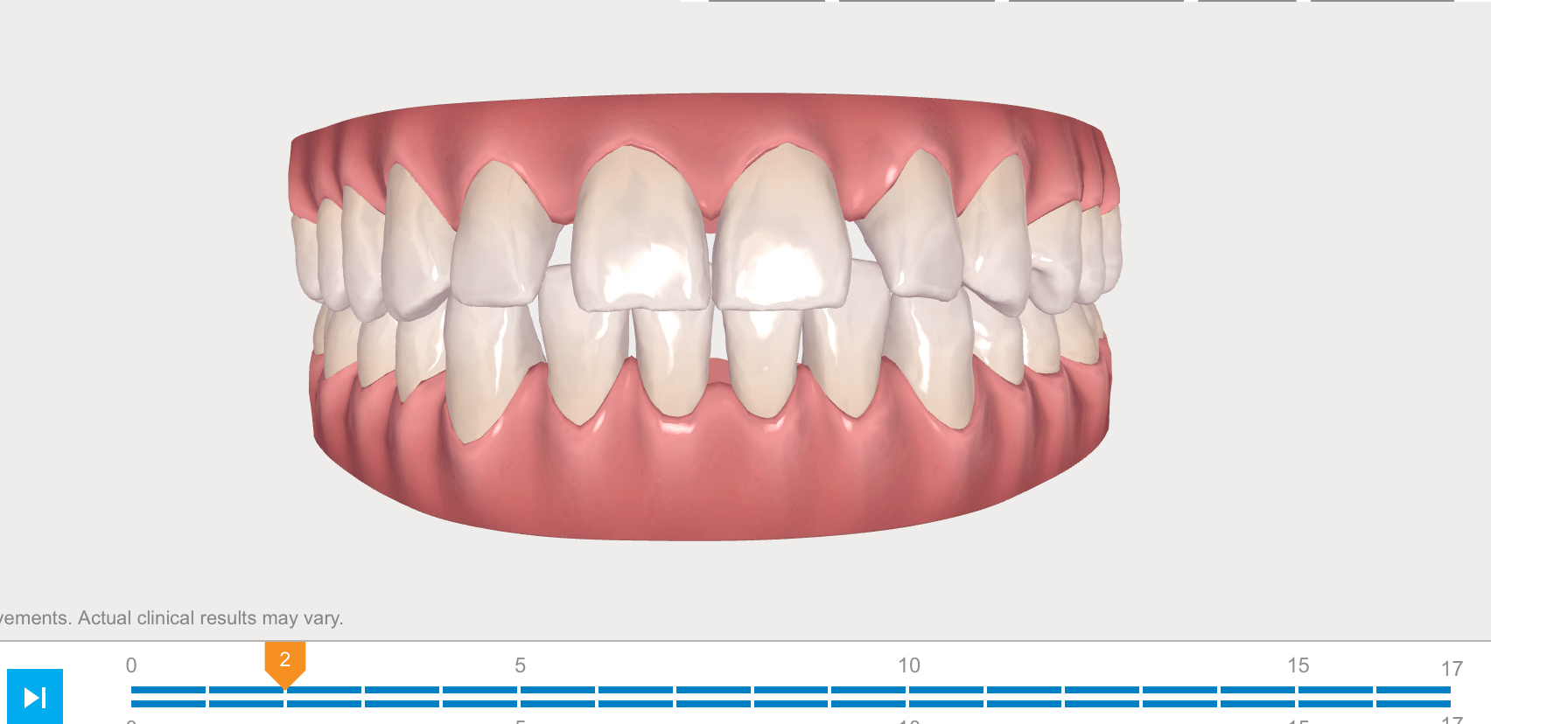 Invisalign Clincheck Before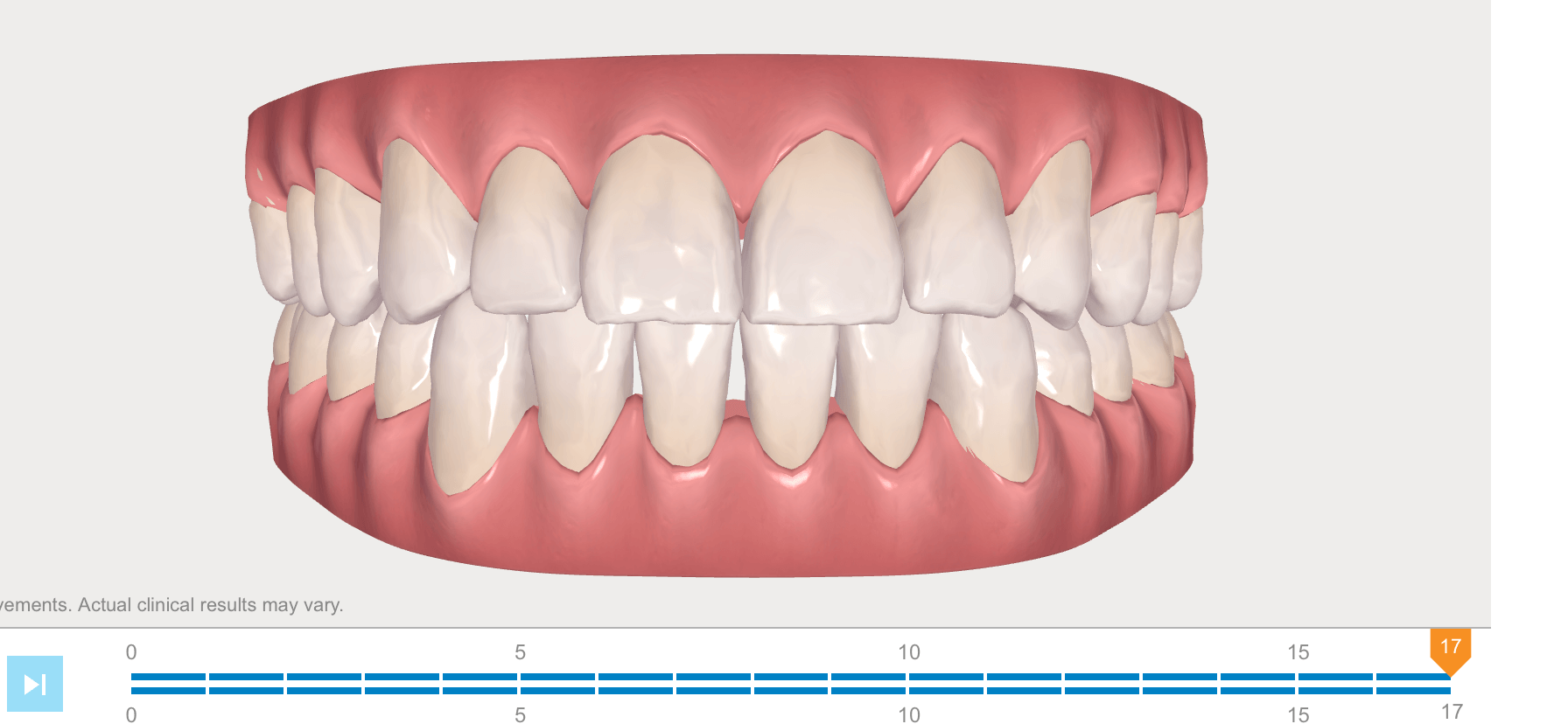 Invisalign Clincheck After
Action Plan (Ready, Set, Align!)
The patient was eager to see what could be done with Invisalign and opted to move forward with treatment. His personalized aligners were provided, and he used a new set of aligners every two weeks to gently shift the teeth. Typically patients are seen at six-week intervals to check on the progress and to ensure the teeth are tracking properly.
After completing the final set of aligners, there was a significant reduction in the spaces between his teeth. However, some residual spacing remained.
Moving teeth is not an exact science and sometimes teeth can be stubborn to move. Recognizing this concern, Invisalign provides an option for additional aligners if the teeth don't fully "cooperate." There is typically little (or no) fee for these extra aligners.
Although the residual spaces could have been closed with some simple bonding, the patient opted to continue with Invisalign. Additional aligners were provided.
Outcome
Through the additional aligners, we were able to get the spaces to fully close. While the process took a bit longer than initially anticipated, this "patient patient" was very happy with the results he obtained.
As is protocol with all Invisalign patients, a final check of the bite and alignment of the teeth was performed to ensure that all teeth ended up where they should be, and that the bite is even and comfortable.
Retainers were then made to keep his new smile in place. Retainers are worn only at night and are included as part of the Invisalign treatment.
Here's what Jeff had to say about his Dental Health Concepts Invisalign experience:
"I've been going to DHC for over 10 years and continue to even after moving away from the area. That's because they are amazing. The practice is super professional with a highly skilled, warm and friendly staff. Every time you go, you feel like part of their family.

Recently, I took advantage of their Invisalign services. I could not be happier with the results. My teeth look better than I had expected and the team was so much fun and attentive through the entire process.

Special shout outs to my Invisalign team of Dr. Brian Crowley, Kerry Lee, Angela and my long-time dental hygienist, Donna Reid. I love my trips to Dental Health Concepts!"

Jeff S.
Ask Us about Invisalign